Commencement of construction of the state of the art research infrastructure
04. 08. 2021
Today, at a formal event, which took place next to the Japanese cherry orchard, the Slovenian Minister of Education, Science and Sport, prof. dr. Simona Kustec, the Mayor of Ljubljana, Mr. Zoran Janković, Director of the National Institute of Biology, prof. dr. Maja Ravnikar and Operations Director at Kolektor Koling, Mr. Gašper Matelič marked the official start of the construction of the Biotechnological junction of the National Institute of Biology with speeches.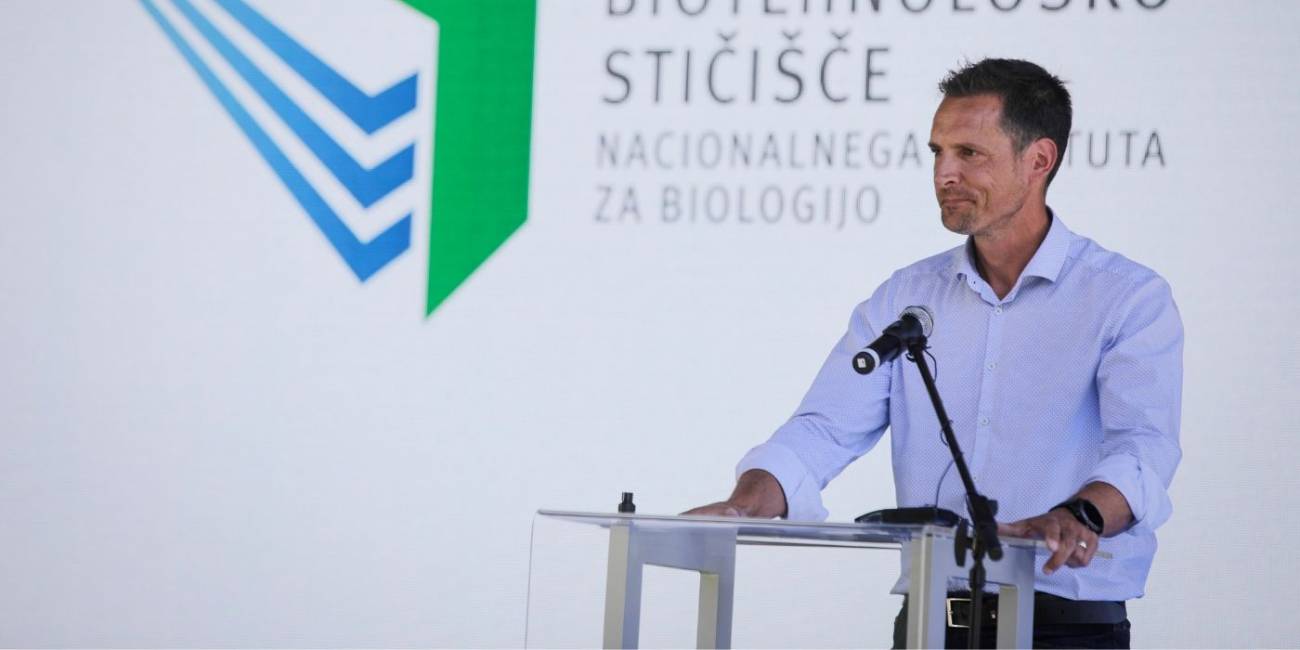 Construction of the Biotechnology Junction of the National Institute of Biology is a large and technically demanding project, as a two-stage demolition of the existing facility, called the Vhodni objekt, is planned, which will enable a smooth work process of the National Institute of Biology. Construction of the new elongated facility envisages three floors with a total gross floor area of ​​7,606.4 m2. In case of poor load-bearing capacity of the foundation soil, the entire facility will be based on piles, which will be interconnected with a network of foundation beams. The estimated depth of the piles is 16 meters and is selected based on the anticipated load.

The facility has a thermal insulation façade envisaged in the ventilated façade system of concrete slabs and glass façade surfaces of system glazing. An additional façade element represents the s.c. »Green scenery« and will be made of a metal substructure of line profiles fixed into the facility. A steel cable will be stretched between the profiles that will serve as a support for vertical greening with flowering climbers.

Gašper Matelič, Operations Director at Kolektor Koling: »It is our honour to be here today, as we look forward to participating in such an important step, the construction of the new Biotechnology Junction of the National Institute of Biology. At Kolektor Koling, we are aware that the construction will take place in the area of ​​the Tivoli, Rožnik and Šišenski hrib landscape park, so we will strive at every step to carefully and responsibly manage the environment and try to preserve the Japanese cherries plantation with the planned measures for the protection of trees. Even though we are talking about the beginning of the construction of a unique facility, we believe that at the end it will represent the most modern research infrastructure.«

Construction will begin in July 2021 and will last until October 2023, the contract value of construction and installation works amounts to EUR 17.01 million.
Back